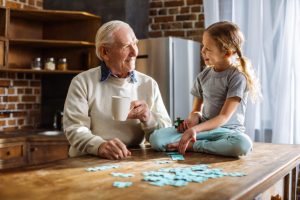 Having an adult parent move back in can be a choice your family makes for several reasons. Before you take the step to move your parent in, it's critical to take the time to weigh the advantages and disadvantages and to make sure everyone is on the same page. It's important to consider your parent's point of view and your own.
Have a plan and open communication to make the transition as smooth as possible.
Understand Your Parents Needs
Before having your parent move in, make sure you understand their needs, especially if they are moving in because of health issues or trouble caring for themselves. What level of daily care will be needed? Do routines or boundaries need to be set? Is their health declining where you will need to support them more in the coming months or years, and are you're prepared for that?
A specialist on aging in place or an occupational therapist can give you an unbiased view on your parent's condition and what you can expect in the months and years to come.
Involve the Whole Family in Your Planning
Make sure your spouse and kids are on board and comfortable with your parent moving in. Also, bring other adult siblings into the discussion, even if they don't live with you. You will want your whole family to be on board, and if they aren't, you should hear them out so you can address their concerns.
Including everyone, especially adult siblings, upfront will help prevent potential friction later down the road.
Talk About Money
Talk with your parent about their financial situation. Do they have money to contribute to the household, such as social security or a retirement account? If their finances are limited, discuss other ways that they could pitch in around the house. Possibly have your parents cook a few meals, help with the laundry, or watch your children. Include your sibling in the financial conversation so they can also help contribute to taking care of your mom or dad.
Make sure to budget for the potential costs of adding another member to the household.
Review Your Tax Options
Your new living situation may yield some benefits at tax time. For example:
If you qualify and have a parent who doesn't work or has gross income low enough (under $4,300 in 2020), you may be able to claim them as a dependent on your tax return.
If your parent still works, you could charge them a reasonable rent and write off expenses related to excess utility and food costs.
If you have a parent in the home who needs constant care, you may also qualify for the dependent care credit, covering up to 35% of the cost of a parent's care up to $3,000 per year. Many employers offer a dependent care benefit through a flexible spending account.
You could even pay for some of their medical expenses from your health savings account.
Note: This is a brief overview. Family and parental support requirements can be complicated, so consult your tax advisor regarding your situation.
Include Your Community
Help your parent acclimate by finding things for them to do around your house and in your community. The more active your aging parent is, the better it is for their overall health. Find senior centers, churches, local libraries, and event centers where there are events and activities they might be interested in.