Adult Children Moving Back Home
02/09/2021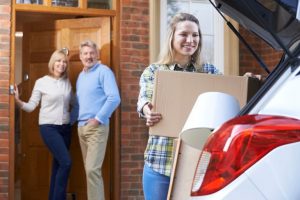 Adult children moving back home with their parents can be the springboard they need for success. With student loan debt, the high cost of living and isolation from COVID quarantines, adult children moving back in with their parents can help them get ahead. Whether you are the parent accepting your child moving back home or the young adult making the decision to move back in with mom and dad, here are a few things to discuss.
Make a Plan
Make sure to have a plan and goals that your children are working to achieve. Having your kids move back in is adding a line item to your household budget. Although you are willing to help your kid(s) out, make sure that they are working to become independent.
Set a Timeline – Set a goal date for when they will move back out. You can move this date but have a timeline you are working toward to help keep your savings, job search, or goal on track.
Set a Goal – At what point or what achievement are you using to decide you are ready to move out. Are you waiting until you meet a significant other, paying off your student loans, or have enough in savings? Whatever the plan might be, discuss the goal as a family, so you are all on the same page.
Make Sure Your Kids Help Out
If your children are moving back in to save money, then look for other ways they can help out around the house. Having adult children move back home adds an expense to the parents, and though you are able and willing to help, make sure they aren't taking advantage of you.
Talk About Savings and Debt
We get not wanting to be a helicopter parent and dive into your kid(s) business, but with your adult children moving back in now would be a good time to help make sure they have a savings plan and debt repayment plan. The sooner your kids can tackle good savings habits, the better!
Agree to Ground Rules
Your children are no longer teenagers; they are grown adults, set ground rules, and expectations for your shared living space. Make sure you are on the same page at the beginning to avoid an unnecessary confrontation later on.